---
---
With good reason, BP is getting lots of negative flack all over the world.  Maybe it's because of that "little" oil spill incident in the Gulf of Mexico.
One of my favorite sites I've seen out there that mocks BP is the Twitter account @BPGlobalPR which pretends to be the public relations group for them.  Their spokesman "Terry" is portrayed as a complete moron. 
"BP wants Twitter to shut down a fake BP account that is mocking the oil company. In response, Twitter wants BP to shut down the oil leak that's ruining the ocean." -JIMMY FALLON, Late Night
Below are some of the best tweets-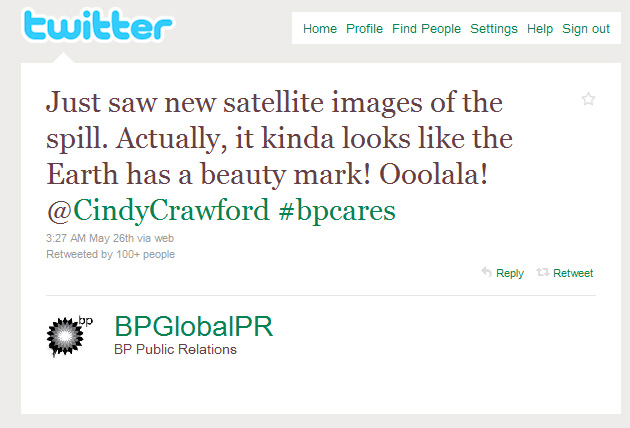 Just got the concession call from Exxon Valdez. They were great competitors and remarkably evil about everything. #bpwins!
Someone just suggested canceling our Memorial Day BBQ in light of recent events. That person, of course, was swiftly fired. #bpcares
New solution: Everybody drive your cars into the gulf with your gas caps open! You'll get a full tank and we'll only charge $20 cash!
We feel terrible about spilling oil in American waters, we'll make sure the next spill happens where the terrorists live. #bpcares
The good news: Mermaids are real. The bad news: They are now extinct. #bpcares
Greenpeace has created a tar sands campaign contest to redesign BP's logo to help correctly rebrand them and is more appropriate for their dirty business.  BP is considering investing money in the mining of tar sands in Alberta, Canada.  Tar sands are the dirtiest oil at the moment and doing this will destroy massive amounts of Canadian wilderness which in turn will kill lots of wildlife leading some to extinction, has a chance of poisoning the water supply and could possibly cause climate change.  Below are some of the submissions for contest.
If only BP would watch this video from the 80′s when Willy Nelson (no no, not the pot smoking braided pigtail folk singer Willie Nelson) figured out how to clean up oil spills in kiddie pools and sandboxes using paraffin wax.  Now everyone get out those paraffin wax tubs you got for Christmas and head down to the Gulf of Mexico and help clean up this mess!