In a world where space is getting tighter and tighter, pop up shops have gone from being quirky marketing coups to normal measures for any brand who wants to reach the masses quickly and effectively.
But why not apply the same logic that stands behind the pop up shop – small, transformable, simple to transport, (generally) basic design – to something else? Say, a piece of furniture?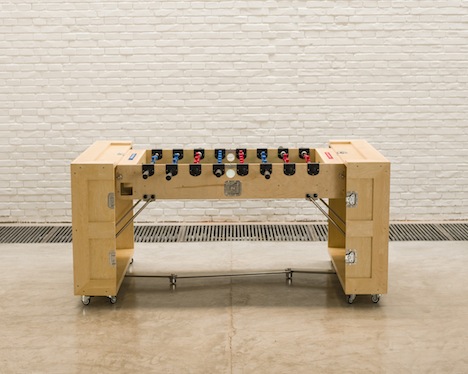 CRATES, a collection of mobile pop-up furniture does just that. Designer Naihan Li found the inspiration for this project while unpacking crate after crate at an Italian design fair.

Recently presented at Beijing Design Week, the sofa, foosball table, entertainment center and workstation, each containing themselves in their respective crates, are meant to offer some perspective on the impracticality of our societies' increasingly common globetrotting lifestyle.
An impressive and well executed collection. It's always nice to see designers who stand on the fringes of the art world, who strive to push our boundaries and the way we conceive the world around us, all the while creating pieces that are quite pleasing from an aesthetic standpoint.
I'm reminded of a comment recently made by a designer friend of mine.
"Functionality done right is suppose to enhance the aesthetic quality of the object!"
Naihan Li seems to share the same thought on the matter. You can find more of her work on her personal website, and at Bao Atelier, a consulting firm she co-founded with Beatrice Leanza.