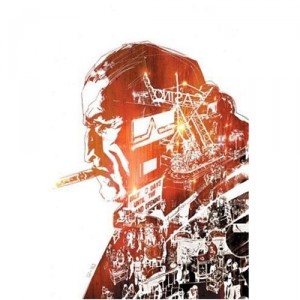 Casino Boogie: It's on it's way.
It's been a Vertigo double feature this week – Scalped Vol.1: Indian Country and The Other Side – both written by Jason Aaron.
 Scalped reads like a Western and RM Guera's pencils give the whole book that 'tumbleweed-and-blazing-high-noon-sun' vibe.  Vol.2 – Casino Boogie, has just hit bookstands and promises to tie up some of the rather messy (and bloody) loose ends left over from Vol. 1.
The Other Side is a Vietnam War story, told from the perspective of an American teenager who has been drafted into the Marines and a young Vietnamese man who has decided to join the VietCong to defend his country. If you thought Jacob's Ladder was offkey – get a load of this. Talking guns and imaginary zombie platoons are the order of the day. Thought provoking and eyeball pleasing stuff.
Oh and how late is everyone else, by the way? I already told you lot Hov was putting on the Gucci wellies for Glastonbury this summer…