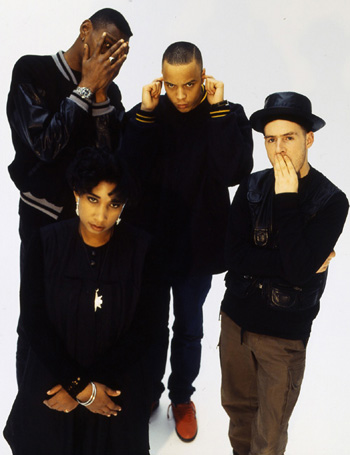 So last night, I'm sitting on a friend's deck as we wring the last few minutes out of the summer. We're listening to Blue Lines by Massive Attack – an album, which has for years been a personal favourite – and we get to talking about how the boys from Bristol are pretty under-appreciated.
The early 90′s, back in England were a pretty exciting time for music. I was barely in double figures back then – getting to that 'musical snobbery' stage – that time in life when every tweenager is convinced that they have the coolest taste in music. Ever. This was when cats like Omar and Soul II Soul were making waves in the States, because they brought something to the table that the Americans didn't have (Somewhere along the line, this jewel appears to have got lost, but that – my friends – is a different post, entirely) and Sade had already been rightly recognised as the proof of the existence of a Higher Power. Current affairs wise, the Gulf War was just kicking off.
Maybe I made the unconscious connection to the first album I ever bought with my own money (Neneh Cherry's 'Raw Like Sushi' – which Massive Attack had a hand in producing) but there was something about Unfinished Sympathy that spoke to me. Back then, I didn't know why – there was something about it that seemed right. A couple of years ago, I was asked what my favourite song of all time is – and I have to come back to Unfinished Sympathy. By this point, my musical vocabulary had grown to the point where I could express why I loved the song so much. It's because it embodies the spirit of pretty much every genre of music I've ever come across. You have your hip-hop in the little scratch intro and the Peter Piper drums, classical strings, Shara Nelson's vocal performance is not sure whether it is operatic or gospel influenced and the europhic/melancholy piano line always reminded me of rave tunes. Unfinished Sympathy is an anomaly, in that it tries to do everything and succeeds.
Funny enough, though another song followed in Unfinished Sympathy's footsteps in 1997, what with the blurring of musical lines – the song was both hip-hop and classical, but undeniably indie rock. It also boasted a one shot video, in which the singer walks down the street. The group was The Verve. The song, 'Bittersweet Symphony'
As for Blue Lines – the album not only heralded the birth of the 'Trip Hop' genre, but also announced the arrival of Tricky – whose solo debut, Maxinquaye also blew it's fair share of minds. Much like its epic single, Blue Lines blurred stylistic boundaries. Reggae singer Horace Andy took on Isaac Hayes classics and made it his own. 3-D, Tricky Kid and Willie Wee rapped in their own accents and didn't make a big deal of it (in sharp contrast to some of the more traditional British rappers, who have since stepped on the scene). There is so much that UK hip-hop could have taken from that album, in terms of creating a body of work that the general public could relate to, but the majority of artists chose a different route.
While I liked their second album 'Protection' (even more melancholy than the most melancholy moments of 'Blue Lines') their third 'Mezzanine' left me cold – maybe it was the heavy rock influences (The single, Teardrop, however, was a blinding ray of sunshine amongst the gloom)
Last year – when Michael Jackson died there was an outpouring of superlatives. It saddens me that we often wait until artists aren't with us anymore to shower them with plaudits. So here goes – These guys are some of my generation's true musical legends. They are our version of The Who, Genesis, Sabbath. Blue Lines is our 'Dark Side Of The Moon'. However you want to slice it, the message is the same. Don't take them for granted, because one day they won't be here anymore.