Four of us (1 Billabong rider, 1 Flaunt It judge and 2 Flaunt It riders) left Toronto at 5:30 PM on the Friday night to meet the rest of the crew (2 Rugged Riders, 1 Photographer, 1 Videographer) in Kingston, then there was eight. We switched cars and then headed for Tremblant. After immediately crashing in our kitschy hotel room we woke the next morning to shred in the Tremblant stop of the Billabong Flaunt It series. Morning of slopestyle (down box with urban down rail option to 35′/40′ to 35′/40′). Lunch time of sandwiches, veggies, juice and cookies. Afternoon of rail jam (down box with urban down rail stairset). That night we enjoyed the after party at Caribou with a pizza and dance party. Then it was off to Ottawa. Wake up drive, to Edelweiss…
The Women's Snowboard Federation crew was back in Quebec March 27th to complete a double-header competition weekend. Billabong Flaunt It on Saturday and the Rugged Riders Kinky Rail Jam on Sunday.
The Kinky Rail Jam went off at Edelweiss Valley with bluebird skies and to no surprise, yet another Edelweiss Valley sweet setup. The morning was a Beginner Clinic with an game of K.I.N.K.Y for the intermediate riders to win a custom Rugged Riders Sentury snowboard. Promising up and comer Serena Dalton took home the board after a sudden death battle royale with Jackie Sakaguchi, finally stomping a 180 on – 180 off on the up box.
The afternoon gave way to the down and dirty competition as the girls jammed for cash and prizes from sponsors. The drive from Ohio was worth it for Flow rider Jen Cusick who took home $200.00 cash for advanced 1st. Renee Flipot and Marie-Pier Grignon took intermediate and beginner categories respectively.
Many thanks to the park staff and resort as well as Burton, Vans, Sentury, Supra, the AOS and the WSF for their support to make this event happen.
The Kinky Rail Jam series is sponsored by BURTON, VANS, SBCWomen.com, Matix, DVS, Sentury, Dialogue Headwear; sanctioned with Women in Snowboarding and BC Snowboard Association.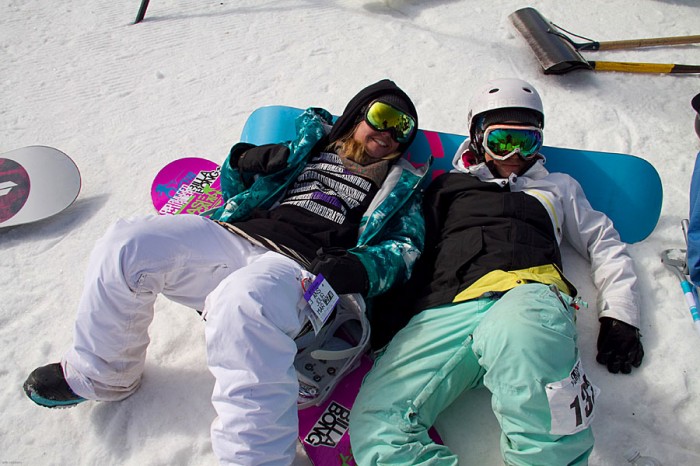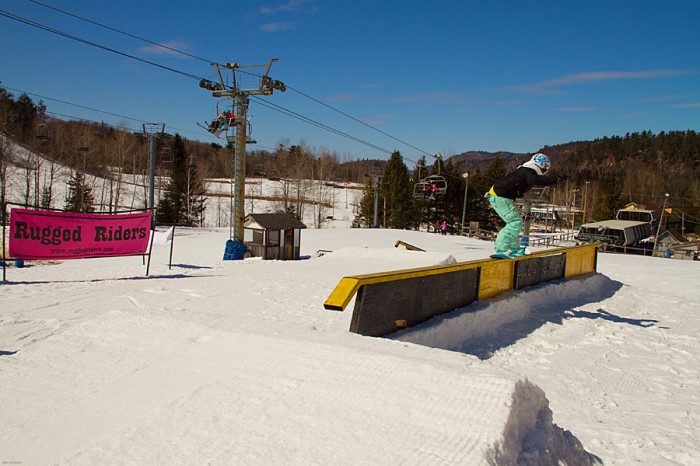 *Photos: Erin Helstern
*Video: Dan Hughes