---
---
Are you ready for your next social networking addiction!? You better buckle up for Waze!

Waze is a new LBS (Location Based Service) that provides FREE turn by turn GPS voice navigation, and also becomes a very fun, sometimes dangerous game!
So what do you do with it?
First download & install Waze for your GPS enabled smartphone. They support iPhone, Android, WinMo, Symbian and have just released a beta for BlackBerry.
Once you create your user account and run the app, you've already started helping your fellow road warriors! While the app is running it learns your current road conditions. Are you on a street or highway? Should you be moving faster, or are you stuck in traffic?
Are you on a road that doesn't yet exist on the map? All this info is reported back to Waze servers and updates live traffic conditions to you and other drivers, or "wazers". Combine this live user data with FREE voice nav and your leaving non-wazers in your dust!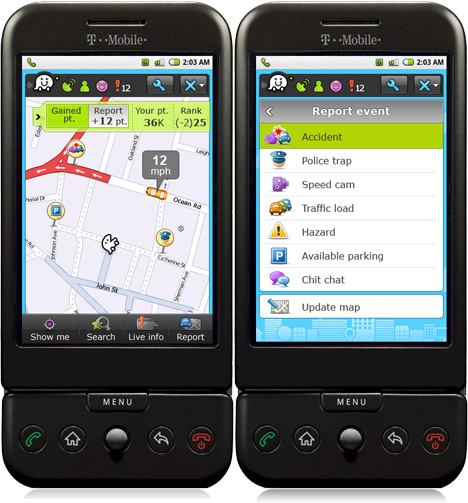 Like most new mobile social apps you collect points, and are ranked! The more you contribute to the community, the more points you get. You can report traffic jams, accidents, chat with other drivers, and my favorite, report sneaky police speed traps! One thing you'll notice on the map is the cupcakes. WTF are the Cupcakes!? You'll see that there are these little pink cupcakes placed randomly on the map. We didn't get it at first, but then… hit one with a car, virtually of course, and BING, BONUS POINTS!!!
After some research we found out the cupcakes are strategically placed. Waze wants you to do their dirty work and make sure their maps are accurate. So go to that random alley, or the edge of that cliff; if the road is really there and you crash into the cupcake, they'll give you some bonus points!
Since the Waze maps are created by real drivers there's a chance a road you're on might not be drawn on the map. But if you report the missing road and fill in the gaps, Waze will reward you with Mega Points!
Waze also has Foursquare & Twitter integration so you can check into your favorite venues and earn the Road Warrior Badge, or tweet your live road reports.
Besides being a free voice navigation app, Waze becomes a very fun game. You'll be wasting gas in no time seeing how many cupcakes in random places you can collect. A feeling of accomplishment when ratting out the cops! Just try not to die by reporting while driving!