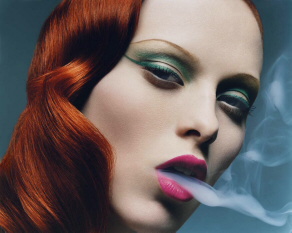 So last night was the opening night of fashion photographer Solve Sundsbo's Saturated exhibition and Spring Studios – a new gallery in Kentish Town. If you ever get the chance to go – may I suggest that you use Sat Nav. Or a map. Or get a Sherpa Guide. That place is well hidden. After a good half an hour spent wandering around in the cold we finally found the gallery. Solve, who has worked with the likes of Naomi Campbell, Karen Elson and Jimmy who takes the flicks for my interviews gave a brief lowdown of what the show was all about:
"What I think people expect from me is simple saturated images – full of meaning"
Anyway – I spent most of the evening locked into a conversation with my agent – as we attempted, yet again, to resolve the battle of the sexes. We failed. I got to drink a £14 shot of rum. FYI £14 rum tastes like feet. We also managed to get lost on the way home and ended up walking through a council estate (public housing for Americanos and Canadiens) where people seem to think nothing of walking dogs the size of bears during the witching hour.
I've also been sent more comic books this week – but I'll be getting into all that over the weekend. Oh – and the good folks at Radiator sent me the Nike Be True look book. Some of the new colourways are a thing of beauty.