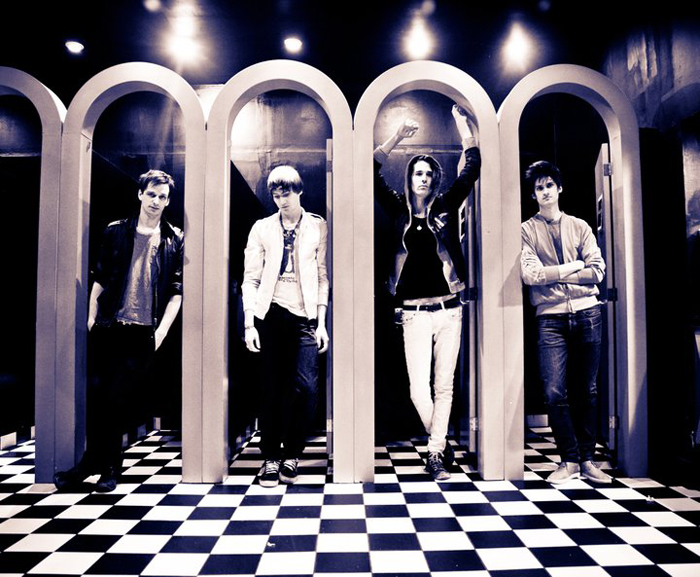 Though their latest track '2012′ does begin with what I call Southern Baptist keyboard, don't let the name Jump Into The Gospel scare you, this isn't music for the bible thumping crowd.
Coming to us from the deep south aka NYC, these five guys (Louis Epstein on vocals, Ben Vescovi on guitar, Chris Stein on drums, Erik Tonnesen on keyboards and Lakis Pavlou on bass) are putting out some fun and very danceable indie pop rock.
I was introduced to their manager, Jon Kule, after two somewhat unrelated friends (whom I really respect) told him to get in touch with me after the guys scored a gig during this month's Pop Montreal.  Beyond flattered that I was thought of, I immediately checked out the band and love love loved what I heard.
Check out super clever and funny cartoon music video for 'Humvee Mansion' and have a listen to '2012′, 'Photovoltaic' and find out more details of their Pop Montreal show (woohoo) on Wednesday, September 22nd below.
Photovoltaic by jumpintothegospel
Pop Montreal w/ Honheehonhee, Jump into the Gospel, Man Legs, Isle of Pines on Wednesday, September 21, 2011
12:30am
HONHEEHONHEE (MTL)
11:30pm
JUMP INTO THE GOSPEL (NYC)
10:30pm
MAN LEGS (CGY)
9:30pm
ISLE OF PINE (MTL)
L'escogriffe
4467 St-Denis
Montreal, QC