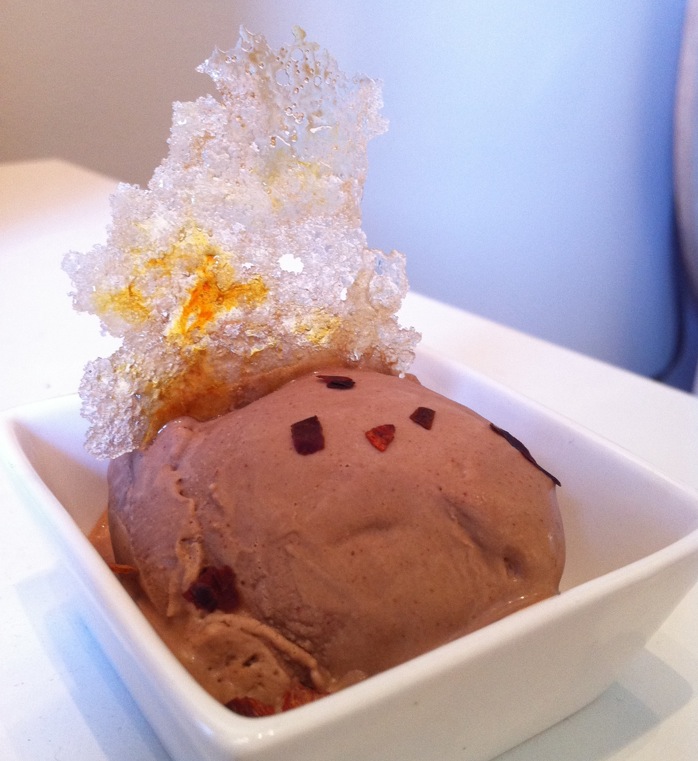 Andolé … my spicy ice cream was a success! Yes, I am on an ice cream making kick and I could blame the weather but we all know (or at least I do) that it's because I'm in love with my new gadget! I'm still so amazed when the ice cream is done churning and it looks like ice cream.
I figured once I had accomplished making the classic vanilla bean ice cream that the next logical step was to try out a chocolate flavor. Being me, I couldn't just make simple chocolate, so I thought about chocolate varieties. I had once had the most amazing milk chocolate mandarin ice cream at a Steven Starr restaurant in Philadelphia called Tangerine, but no one seemed enticed by this suggestion. Therefore I went with what I knew would be a crowd pleaser in my apartment and took to the spicy route. Smoked Paprika has to be @newmoney 's favorite spice in our spice rack and I figured if he says he likes anything with that flavor he'd love my Smoked Paprika Chocolate ice cream (Ps. it was a huge success).
The best part about this ice cream is that the spicy flavor takes an unusual amount of time to hit you, so the unsuspecting taste tester would initially think they are enjoying the best (yes, I brag a lot) chocolate ice cream they've ever had and then BAMBBBB … spicyyy.
Try this one out with your friends or if you are my friend come over and ask for a little sample! Trust me, it's worth the metro ride.
Recipe:
2 Cups of Cream (35%)
1 Cup of Whole Milk
8oz of Milk Chocolate
1/2 cup of Sugar
2 tbps Smoked Paprika
1 tspb of Cayenne Pepper
Place the Whole Milk in a sauce pan and bring to a boil (over medium heat).
Add the Smoked Paprika and the Cayenne pepper to the boiling milk (Be sure to not let the milk form a skin … if it looks like that is happening reduce the heat).
Chop up the chocolate into the size of mini chocolate chips (I used Dove chocolate because it's my favorite but I also added some semi-sweet chocolate chips).
Combine the chopped chocolate and the sugar into a blender (I used my beloved Magic Bullet) and pulse until they've formed a fine grained mixture.
Slowly add the hot milk to the blender and blend into a smooth cream.
Place the cream into a bowl and chill completely.
Once the chocolate mixture is chilled add the two cups of heavy cream and place back into the fridge to cool for 2 hours.
Pour the mixture into your ice cream maker and voilà!
Additional:
I decided to dress it up with some pepper flakes and a caramelized sugar leaf, so feel free to get crazy when you're preparing to serve it.