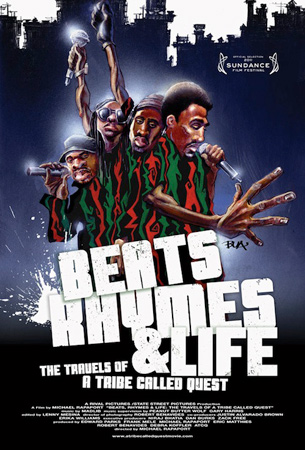 So a couple of weeks ago, I was amongst the lucky few that got to see the new A Tribe Called Quest documentary – 'Beats, Rhymes & Life: The Travels of A Tribe Called Quest' (dir. Michael Rappaport) when it showed in Toronto. Yes – Q-Tip, Phife Dawg, Ali Shaheed Muhammad and Jarobi were amongst many that helped provide a rich and varied soundtrack to my teenage years, but I am not here to try to convince you to go an see it – trust me, you need to see it – but rather to wax lyrical about how cool it is, for a variety of reasons.
Firstly, as someone who watches a lot of music documentaries (I mean a LOT of them), it's nice to see a hip-hop doc done with the same sense of dignity as some of the old rock ones I've seen in my time. We're treated to a guided tour down memory lane, starting with the 'Questers as kids. As someone who has been a huge Tribe fan as well as an unrepentant glutton for music trivia, for years, it was nice to be told stuff that I didn't know. Purists – breathe easy. A cool selection of talking heads also help push the story along nicely. And these are musicians who have sold millions of records in their own right. Whether it's Questlove's spot on, single sentence take on Q-Tip and Phife's chemistry, or Pharrell recounting of his reaction to hearing 'Buggin' Out' for the first time ("Microphone Check, One-Two, what is this?….WHAT?!?!") you can tell that these guys are speaking as fans of ATCQ.
Don't however get the idea that this flick is all sweetness and light. There are some tense moments – the group's implosion moments before taking the stage at 2008′s Rock The Bells, and the chapters dedicated to Phife's kidney condition and the eventual resolution are touching for different reasons. Tribe was never the flashiest of groups – there wasn't really a mythology to buy into with them, as such. They liked jazz, basketball, Polo, girls wearing Liz Claiborne and the occasional road trip to Mexico, so it's fitting that it plays like a new skool Miles Davis documentary.
The film was not however without its' stumbling blocks, and it was well documented that the group took exception to their portrayal in the film. The cut which is currently doing the rounds on the festival circuit has, however, been approved.
And of course you can't forget the straight nerd out moments; Q-Tip talking about hooking up the drums for 'Can I Kick It?', the old live footage and Busta Rhymes confessing to being in tears while listening to 'Lyrics To Go'. Poetry in motion.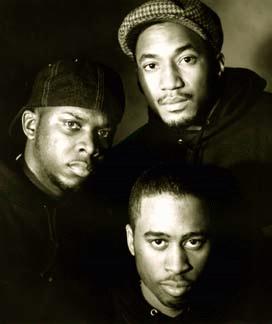 The thing that was coolest to me, was that it was a documentary about a group that I personally grew up listening to that wasn't either monolithically succesful or dead. Tribe were a group that got over by being, well, themselves. Since ATCQ disbanded in 1998, Slum Village and Little Brother were both touted as 'The Next Tribe' to some extent (This, in a strange and sad way, is rap's version of 'The Curse of Superman' – seeing as LB split up and Dilla and Baatin from Slum's original line up are no longer with us). Rappers generally used to fade into obscurity in their mid 30′s, although nowadays this is not so much an issue – with the majority of rappers who blew in the 90′s and are still kicking about reaching the big 4-0 over the next few years. Our fascination, as rap fans, with hearing what is new and on the cutting edge, has meant at times that we're a Peter Pan culture – never aging and retreading the same issues and mistakes over and over. So it's dope to see guys who are over 20 years deep into their career and still very much in love with the music.
The score by Madlib and Peanut Butter Wolf (which was nicely reminiscent of Dilla's knock) holds the visuals down beautifully. Finally, of all the cool stuff in the film, I thought maybe the absolute coolest was the fact that amongst the other co-stars such as members of The Jungle Brothers, De La Soul and Black Sheep – Pete Rock, Premier and The Large Professor, the three guys who I often thought of being my generation's jazz cats alongside RZA and Q-Tip were featured. It was like a rap 'Great Day In Harlem'
So, yeah. Basically, go see it.
Check the trailer out: here