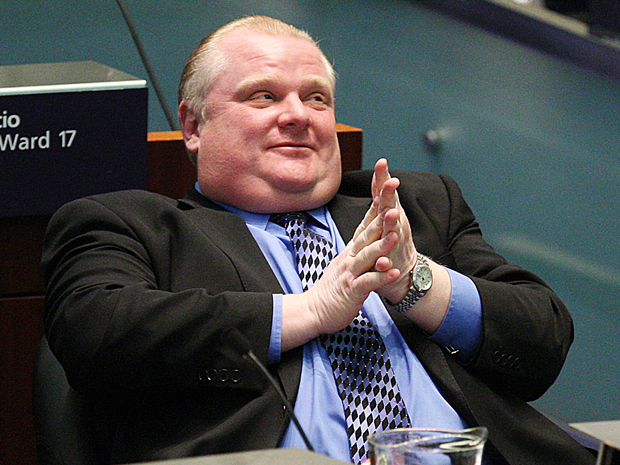 Just as is the case with his obesity, Mayor Ford has the chronic problem of concealing the sheer enormity of his unprincipled character. The mayor's full-bodied and unheroic struggle against 'gravy' has faded fast as the police union's 11.2% raise casts shafts of light on his unreliable and tottering politics.
A raise for Toronto Police confirms that it's not the City of Toronto that has a police force but it's the Toronto Police that possess a City. What else could explain a 4-year, $100 million dollar raise when a catalog of constabulary crimes exists for all eyes to behold?
Mayor Ford and Doug Ford Jr. professes public sector leanness when dealing with other unions (a leanness invisible in the Mayor's own outwardly constitution) but permits flabby perks and pelf for a police force more disjointed that the artificial limb they ruggedly amputated from 57-year old G20 protestor, John Pruyn.
Ford's chuggish appearance gives the impression that his mouth contains a double-tongue, its his presiding over such an unwarranted wage packet increase for Toronto Police that confirms it.
What follows is an account of the discourteous and blackguarded past of Toronto Police Services. It's a voluminous history of which any documenter faces an embarrassment of choices, a surplus of bad cop anecdotes so generous that I can leave out the authorized sadism of the G20 and still deliver my point with considerable weightiness.
(If you want to know more about the conduct of the bluecoats of Toronto during the G20, a confirmable index of badge-cladded barbarism can be found in the back pages of Ontario Ombudsman Andre Marin's Caught in the Act. When not documenting cheap violence, the majority of its pages are denouncing the implementation of the Public Works Protection Act—the legislation that made Toronto a policedom of martial law for the weekend—as undoubtedly unconstitutional)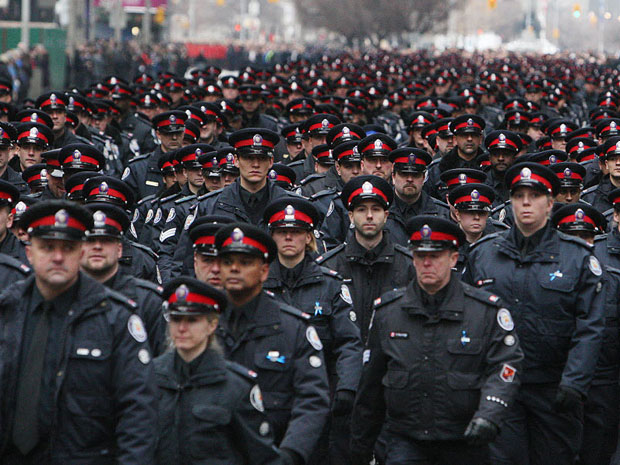 Now many decades ago, Charles Dickens wrote this of police:
"Apart from many of them being men of very indifferent character, and far too much in the habit of consorting with thieves and the like, they never lost a public occasion of jobbing and trading in mystery and making the most of themselves. Continually puffed besides by incompetent magistrates anxious to conceal their own deficiencies'
With the perfect quotient of verbal portraiture, Dickens' imperishable observation is precociously written for the police dynasty of the spoiled McCormack men. The filial tendency for personal gain at the expense of others began with Grand-daddy McCormack who was a bona fide, pith-helmeted colonizer for the British Empire. Sure he worked in the superficially admirable area of colonial prison reform, but the British Empire verifiably caused more damage than good and induced the very criminals that its was required to subsequently deal with. So much for that legacy. Between 1989 and 1995, William J. McCormack was Chief of Toronto Police.
He presided over an era of authorized racism and police impunity. The Toronto Police proclaim lugubriously to be a 'family'. Well, in this family Black officers turn their heads to racist mantras uttered brainlessly in the testosterone rank guardrooms where 'Toronto's Finest' towel-snap each other's asses and engage in badged machismo. David Mercury, a former constable who left the force because of numberless instances of racism against his own person, went bootlessly to Chief McCormack to inform of a potentially deathful situation involving his white 'brothers' and he.
Mercury was a plain-clothes officer who was pulled over while he was on an undercover assignment (black officers admit to being stopped unwarrantedly and predictably by their 'brothers' when off-duty). Instead of routinely approaching the car as police are taught to do, Toronto Police screeched to a stop mirror to mirror with Mercury. Acutely turning his head to look out the driver side window, Mercury was staring forebodingly down the barrel of a .38 with a Toronto Police officer holding the weapon in the general direction of Mercury's face.
Remorselessly, the unformed officers sped away after Mercury said who he was.
Mercury went right to Chief McCormack with this unwholesome tale. What do you suspect the son of a British colonial officer did? He did as much as a hole in the air does. Doodily squat.
Nearing the precision of Dickens, a 1998 report suitably captured the racism of Chief McCormack's years with the title "The Fish Rots from The Head: Race Relations within the Metropolitan Toronto Police". The beauty of the thing lies in its name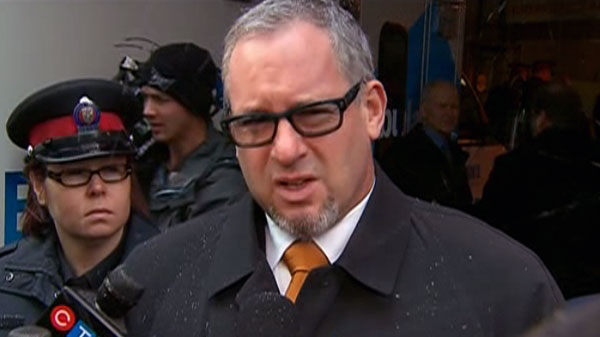 (Dodging justice is an art form for Mike McCormack, the Head of the Toronto Police Association, above)
The ineffaceable shame of the early years of the McCormack tribe was made more invariant and ingrained when Chief McCormack's two little brats entered the Police sorority 25 years ago dripping as they were with an arrogance and smug entitlement.
Bill Jr. and Mike are as peerlessly pathetic and morally anemic as cops come.  As dispassionately as I can, let me count the ways:
§  Bill Jr. and Mike were alleged to have engaged in paid protection of downtown bars that were drug fronts. Intentionally, no police interference or liquor license inspectors were dispatched to these criminal havens.
§  Bill Jr. was engaged in raising money for children with diabetes. While already facing two-dozen corruption charges, Bill Jr. kept the money for personal use from an event related to the Hospital for Sick Kids.
§  When a restaurateur was arrested by Const. Stone for failing to provide a breath sample, Mike McCormack bribed Stone with hockey tickets to let the drunkard off.
§  Bill Jr and Mike were subject to various extorted money and liquor related corruption charges when the hockey ticket fiasco occurred.
§   A sleazy used car dealer, Jeffrey Geller, died of a drug overdose in 2004. His death revealed that Geller was in business, via Geller's Exclusive Auto, with Const. Rob Correa and Elizabeth Martin, Mike McCormack's wife. Martin was driving a 1997 Benz and Correa had endorsed 7 checks totaling $62,190 written to Geller. Mike McCormack had testified as a character witness for Geller when his auto license was to be stripped for purportedly shady and confirmably criminal enterprise.
Lamentably, Mike McCormack is the current head of the police union, Toronto Police Association, of which he is chief negotiator for securing the lavish remuneration from the City. Within the brutish sub-culture of Toronto Police, it is the euphemists and the obscurantists like McCormack that climb the ladder of accomplishment.
As reprehensible as all the above is, it was McCormack's malevolent conduct towards an unstable investigative journalist, John Duncanson, of the Toronto Star, for whom it was a booze-induced death after McCormack's hard-hearted taunts and official ill-conduct overcame the boozy journalist.
Stay Tuned for Part II…